There is so much more to Sheppy's than just cider!!
This really is a lovely place to visit, even if you don't like cider!
Sheppy's is just 4 miles from Chilcott's Barn...it really is worth a visit..it's so interesting to see how the art of cider making has developed over the years...
Sheppy's Cider has been at Bradford-on-Tone since the family moved here in 1917, and the name and location have been a fixed point in the lives of local people and holiday makers ever since.  Over the years we have welcomed thousands of visitors to our shop, tea room and museum.
Although we focus primarily on perfecting our cider, we know that it's just as important to make sure that people can visit the very place that we produce the cider from. It helps connects our cider and our traditions to our customers.
We ferment our ciders using the naturally occurring wild yeast from the apples. We then mature some of them in oak vats, many of which have been in the family for almost 100 years. David Sheppy, our Master of Cider, has developed his skills over a lifetime blending dessert apples with cider varieties to give Sheppy's its distinctive, high quality taste.
In recent times we have created brand new production facilities, freeing our lovely old brick buildings for development. In April we opened the doors to Sheppy's House of Cider- a bigger shop, café, bar, restaurant, and much more. We will also have a venue inside an old cider vat which will play host to one of our many tours.
The first weekend in September sees our second annual SheppyFest. After such a fantastic debut festival last year, we simply had to do it again. We have bands from all over, including The Hoosiers with their hit record 'Goodbye Mr A' and our local favourite, Filta. It's set to be an amazing day for all the family.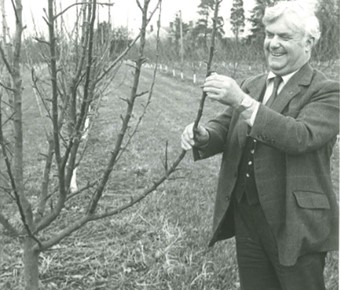 OUR HERITAGE
Through more than 200 years of making real premium craft cider, six generations of the Sheppy family have weathered the ups and downs of combining farming with cider-making by embracing change and opportunity.
EXPLORE OUR HISTORY
DISCOVER THE NEW & IMPROVED SHEPPY'S FOR VISITORS
The shopping experience at Sheppy's has all changed with the opening of Sheppy's House of Cider & Fine Foods. We now have a bigger cider shop with counters serving fresh meat, freshly baked bread and a delicatessen serving local cheese and homemade pies, pastries and quiches.
At Sheppy's House of Cider & Fine Foods we specialise in giving customers our personal attention. The staff in our shop will help you find everything you need.
Our ciders are available to taste from our tasting counter where our shop staff can give you expert help to find the perfect cider for your palate.  Alternatively, you might like to stay a bit longer and enjoy our special our 'cider flight' board, giving you the chance to try 4 different ciders in our Apple Bay Bar.
Whilst you're here, why not take away a gift for someone? We have lovely gift hampers available and we can even make them to order, whoever it's for and whatever your budget.
Dawn, our shop manager, has sourced all sorts of locally made produce including Somerset cheeses, jams and chutneys, biscuits, Somerset cider brandy, chocolates and sweets, and all manner of other temptations. We hope you get a chance to take a look at our products and take away some treats.
As you may already know, we have beautiful Longhorn cattle on our farm and, as part of our development, we wanted to bring you a butchery counter specialising in rare breed meats as well as our own beef. We will also be selling home-cured bacon, homemade sausages and much much more.
Alongside our cider shop and butchery, we also have a bakery and deli selling freshly baked goods.
SHEPPYFEST '18
Sheppy'Ts Cider is proud to introduce SheppyFest Cider and Music Festival for the third year, Saturday 1st September 2018. 

The festival is a celebration of our award-winning ciders, fantastic music and our time within the community. We would love you to be a part of it. 

We have a jam packed line up this year with music starting from 12noon-midnight. We listened to you last year and we think we've got it just right this year. We've tried out best to have something for everyone! 
Returning favourites from last year, The Leylines and FILTA (of course!!) what's SHEPPYFEST without them right? Alongside up and coming Tristan Macay, Dan & Flic and the fun duo Jack & Joel. Also playing is year are Skata Tones, The Ed Sheehan Experience and of course, our headline act, COLDPLACE. The number one Coldplay tribute band in the world! 
A perfect way to end the night with a good singalong to some of the most well known music from the past and present day. 

We have a wide range of hot food being served throughout the day including a mouth-watering hog roast, Longhorn beef burgers, gourmet chips and some pretty impressive pIzzas! We will also be offering vegan, vegetarian and gluten free options! There really is something for everyone! If you've got a sweet tooth, don't worry we have it covered with the Pancake Pod! Freshly made hot pancake with every topping you can imagine! 

We have live children's entertainment and plenty of bouncy castle fun!

Early Bird Tickets are £20 per person*, 14 and under enter FREE (maximum 2 tickets per adult) with an adult (over 18) ID required on the gate. (Festival gates open 12 noon)
*Ticket price increase from 29th May to £25 per Adult
Tickets will be exchanged for wristbands on the gate.
 
FAQs
Are there ID or minimum age requirements to enter the event?
We operate a challenge 21 policy. Anyone who looks under the age of 21 will be asked for ID on arrival at the festival gate. If you are unable to provide us with ID you will be given a RED wristband meaning you are unable to purchase alcohol.
What are my transport/parking options for getting to and from the event?
Parking is available free of charge to any ticket holder. We encourage car sharing if you are coming in a large group. Disabled parking is also available.
Please note: There is a short walk from the car park to the festival field.
What can I bring into the event?
We do not permit any food or drink onto the festival site. Light refreshments are allowed on the camp site. Security will be carrying out bag searches and all food and drink will be removed on entrance to the festi
How can I contact the organiser with any questions?
We'd love to hear from you if you have any questions. Please give us a call on 01823 461 233 or drop Sara-Beth an email: info@sheppyscider.com
What's the refund policy?
ALL TICKETS ARE NON-REFUNDABLE
Tell your friends about Sheppyfest AND Chilcott's Barn!
Chilcott's Barn...check out our availability!